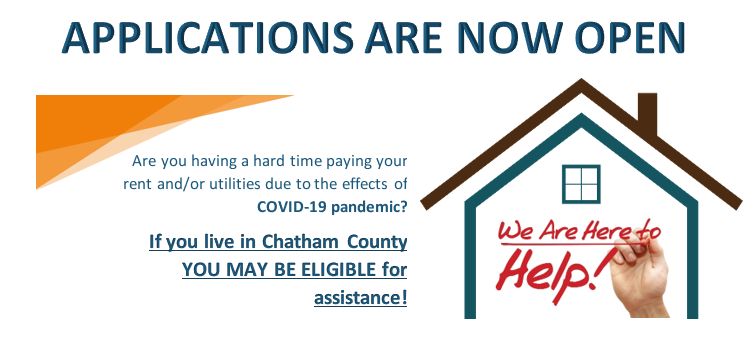 The Chatham County Emergency Rental Assistance Program provides financial assistance to eligible households for the payment of rent, rental arrears, utilities and utilities arrears, Internet services and other housing expenses incurred due or during the COVID-19 pandemic.
---
Who is eligible to receive assistance?
Tenants and Landlords on behalf of that eligible household are encouraged to apply. (Homeowners, see section "Homeowners Mortgage Assistance Program" below for resources).
The primary applicant should be the signee on the lease agreement and/or utility invoice. All applicants should provide documentation as proof of need and payments will be made directly to landlords and utility companies.
Tenants/renters must meet the following eligibility requirements:
Place of residence must be within Chatham County;
Place of residence must be a rental property, single or multi-family home, or mobile home;
Must be able to demonstrate that one or more individuals within the household is at risk of experiencing homelessness, housing instability or eviction;
Your household income does not exceed 80% of the Area Median Income (AMI) (AMI information can be found here);
One or more individuals in the household has qualified for unemployment benefits after March 13, 2020, or experienced a loss of income, or other financial hardship due, directly, or indirectly to COVID-19.
Your household has not received or will not receive any other assistance for the same expenses. Duplicate assistance is not permitted.
Prioritization Guidelines
---
Please note that qualified households of Chatham County will be prioritized based on:
Households at risk of eviction;
Households with income of 50% or less than the Area Median Income (AMI); or
Households with one or more members that have been unemployed for at least 90 days.
---
Application and More Information
---
Learn More
For more information, please send an email to ERAadmin@chathamcounty.org.
This project is being supported, in whole or in part, by federal award number ERA0126 awarded to Chatham County by the U.S. Department of the Treasury.
---
Other Programs / Agencies who may provide assistance
-- Not Currently Available Online... Please Check Back --



---
Other Programs for Renters

Additional funding is available through the State of Georgia Rental Assistance Program to help the Georgia renter who has fallen behind on rent and/or utility payments.
For more information, visit Georgia Rental Assistance (ga.gov)
---
Report Fraud
Please report any fraudulent activity, complaints or if you have knowledge of false information provided by a participant of the Chatham County Emergency Rental Assistance program to ERAadmin@chathamcounty.org or by completing this form.
The Chatham County Emergency Rental Assistance program will, within the law, protect the identity of individuals who submit complaints. Identities will not be divulged unless permission is received from the individual, a legal process requires identification, or the individual acts in bad faith. While anonymous complaints are permitted, please note that limitations associated with the submission of an anonymous complaint will have an impact upon the investigation and resolution of the complaint. In addition, due to privacy issues, Chatham County Emergency Rental Assistance program will not be able to discuss an applicant's situation with you.
---
Homeowners Mortgage Assistance Program
Chatham County is not participating in the Mortgage Assistance Program, if you are a Chatham County Homeowner who were affected by the Covid-19 pandemic and need assistance you may qualify for a mortgage assistance program offered through the Georgia Department of Community Affairs, please follow the link below to DCA website at https://www.dca.ga.gov/safe-affordable-housing/homeownership/georgia-mortgage-assistance-program

Find more information here: www.GeorgiaMortgageAssistance.ga.gov