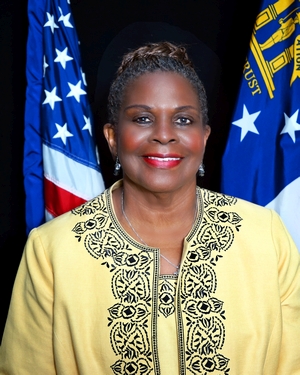 Yvonne E. Holmes
Commissioner, District 2
Commissioner Holmes grew up in Garden City right here in Chatham County.
At an early age, Yvonne had a passion for wanting to help others. She would accompany her mother to help take care of the elderly in their neighborhood. Yvonne would often make spending money by babysitting the neighbors' children. Yvonne was not the oldest of her siblings, but she often wore that hat because she liked being in charge and caring for others. Her parents instilled in her to have strong values, morals, and ethical beliefs.
Commissioner Holmes was married to the late Commissioner "Coach" James Holmes.
Email Commissioner Holmes
Professional Career
Professionally, Commissioner Holmes career began after she graduated from Tompkins Highs School and enrolled in Savannah Area Vocational School.
Yvonne is a self-made business woman and saw the need to open a daycare out of the kindness and goodness of her heart. Commissioner Holmes opened the daycare in the Cooper Center located at Rosenthal Hill in Garden City. The daycare was at flourishing point when EOA Headstart stepped in and took over the program.
She later graduated from the School of Nursing and obtained a Licensed Practical Nursing Degree from Savannah Area Vocational School. While attending Savannah Area Vocational School Yvonne also started working Part-Time at the Fountain Nursing Home in Port-Wentworth. After Commissioner Holmes graduated from Savannah Area Vocational School, she applied for a position at Memorial Health University as a Pediatric Nurse. Yvonne was ambitious and wanted more, so she decided to continue her educational pursuit and obtained an Associate of Science in Nursing from Armstrong State College and became a Registered Nurse. Commissioner Holmes was later promoted to Charge Nurse of NICU. She later retired after 42 years of dedicated service from Memorial Health University.
---
Objective
Commissioner Holmes will represent her constituents on a state and local level to advocate for economic stability through job creation, small business support, advocating for tourism, neighborhood revitalization, education and quality care for the elderly, veterans, and children.
---
For Fun
In her spare time, Yvonne loves to work in her garden growing vegetables and various plants. She enjoys walking with her friends daily and spending time with her family and friends.
---
Highlights
Results oriented
Extremely organized
Collaborative team member
Excellent research skills
Excellent analytical skills
Detailed orientated
Attention to detail
Customer service focused
---
Professional Experience
Pediatric/NICU Nurse — 1977 to 2019
Memorial Health University — Savannah, GA

Treated neonatal born extremely prematurely
Took patients blood pressures, weight, and pulse
Used Electronic Health Record
Worked closely with Physicians and Respiratory Therapists
Provided emotional support to parents and families with sick infants
Trained new employees
Accurately documented all elements of nursing assessments, treatments, medications, and discharge instructions, and follow-up care
Maintained confidentiality
IV drug therapy management
Adjusted care, initiated interventions for the patient in need
Trained parents for neonatal after home care
Skilled in conducting neonatal physical examinations



Nursing Assistant — 1975 to 1977
Fountain Nursing Home — Port Wentworth, GA

Assisted patients with daily activities such as grooming and healthcare
Assessed vitals and collect lab samples
Maintained a clean, safely, and well orderly environment
Provided patients and family with emotional support
Assisted Nurses per request
Facilitated games and activities



Teacher — 1973 to 1975
Rosenthal Hill Daycare Center

Developed the needs for each child's needs consistent with their age and stage of development
Developed and executed activities to designed and encourage the social, physical, and intellectual development of the children
Organized parent conferences on a regular basis
Developed a list of resources for parents to help with assistance when applicable
Developed, implemented, and assessed school age programs


---
Education
Armstrong State College
Associate Degree, Registered Nurse


Savannah Area Vocational School
Licensed Practical Nursing