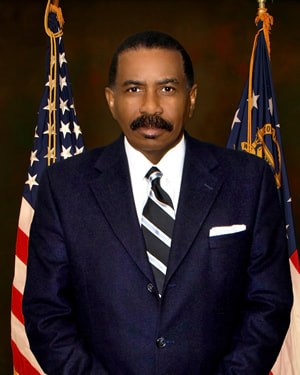 Albert J. Scott
Chairman
Before Al Scott was elected Chairman of the Chatham County Commission in November 2012 General Election, he had served in both Houses of the State Legislature, and as Georgia's Labor Commissioner.
Started and sold a small business thirty-eight years ago, and it is still in operation today. Al worked in several management positions at Union Camp and International Paper for more than thirty years.
Email Chairman Scott
Political Experience
Member of the Georgia House of Representatives
While serving in the Georgia House, Representative Scott sponsored the Truth in Taxation Law and the Automobile Insurance Rate Reform Legislation. As a member of the House Reapportionment Committee, he drew the County Commission, and School Board Districts and they have remained relatively unchanged, except for population shifts. He went on to reapportion the City of Savannah into its current six districts configuration, and maintaining two at-large council seats.
Al Scott was also responsible for funding (from the Governor's Emergency Fund) the relocation of the King-Tisdell Cottage – saving it from being demolished at the urging of W.W. Law.
Member of the Georgia Senate
When Al Scott was elected to the Georgia Senate, he became the first African-American elected to the Senate from Chatham County, and the first person of color to serve since Reconstruction.
While serving in the Senate, Al was ranked as 1 of the 10 most influential legislators in Georgia by The Atlanta Journal Constitution, he was also cited as one of the "Movers and shakers in Southeastern business."
As a member of the Senate, he chaired several committees: Consumer Affairs, Children and Youth, and Industry and Public Utilities. As Chairman of Consumer Affairs, he sponsored, among a host of consumer-related bills, legislation requiring mortgage companies to pay interest on escrow accounts.
While serving as Chairman of Children and Youth, he authored a constitutional amendment (as well as the enabling legislation) establishing the Georgia Children's Trust Fund to help address the issue of child abuse and neglect in Georgia.
As Chairman of Industry and Public Utilities, Senator Scott sponsored legislation to provide phone service to Georgia's hearing impaired. He also authored legislation providing for county-wide toll free calling in Georgia, and improved highway truck safety. He also sponsored legislation setting up the framework for including Plant Vogel.
Senator Scott also served as Chairman of the Georgia Legislative Black Caucus.
Georgia Labor Commissioner 1990-1992
Governor Zell Miller appointed Al Scott to the office of Labor Commissioner, making him the first African-American to ever hold a non-judicial Constitutional Office in Georgia. There were no tax or premium increases to employers during his service as Labor Commissioner.
Working with business, labor leaders, and members of the legislature, Commissioner Scott secured passage of the first major revision to Georgia's employment security law in its 50-year history. The revised law treated all employers more fairly and cut red tape – which had been costly and time-consuming. He also started the automation of all fifty-two offices throughout the state.
State Board of Education
After leaving the Department of Labor, he served on the State Board of Education, where he held meetings throughout the First Congressional District to try and learn how he could help local school systems by eliminating red tape.
Georgia Ports Authority
Al served as Secretary, Vice Chair, and Chairman of the Georgia Ports Authority, and was responsible for staff implementing several reforms, including creating a Five Year Strategic Plan, tracking cargo destination by zip codes. He also was able to convince fellow board members to create a system for pay for performance, and chaired the search committee that hired the current Executive Director.
Past and Current State and Regional Activities
Member BB&T Bank Community Board
Past member First Liberty Bank Board
Past member of the Southern State Energy Board
Graduate of Leadership Georgia
Twice voted one of the Ten Most Influential Legislators in Georgia
Past Chair of the Chatham County Democratic Committee
Past and Current Civic Involvement
Founding board member King-Tisdell Museum
Past board member HOSPICE of Savannah, Inc.
Past board member Boy Scouts of America
Past board member Goodwill Industries
Past board member Hodge Memorial Day Care
Current President Savannah Branch NAACP
Recipient of numerous civic and leadership awards